Danny Peralta
Class of 2020
Danny R. Peralta
is a Bronx, NYC born and based artist and community builder. He graduated from NYU's School of Education in 2000 and began a career as an educator, photographer, and community developer. He has been awarded the Jocelyn Benzakin Fellowship (2015), the BRIO (2007), the En Foco Legacy Award (2015), and the ICP Director's Fellowship (2018).
His work has been featured in the New York Times, and as part of group exhibitions at Museum of the Moving Image, Hostos Community College, the Bronx Museum of the Arts, BronxArtSpace, and others. Currently, he is an ICP-Bard MFA '20 candidate. Peralta is also Executive Managing Director of THE POINT CDC in Hunts Point, where he works with others leading resiliency and environmental justice campaigns and cultural programming.
---
Peralta's thesis work,
Of a Particulate Matter
addresses his concern for the environment including poor air quality. In a series of paintings, videos, and sound works, he takes apart and rearranges the world around him, making the invisible visible, and abstracting the concrete.
Particulate Matter
(2018-20) is a series of paintings composed using discarded paint that peels from graffiti murals and surfaces from throughout New York City during a time of rapid cultural displacement. Each piece is named after a different PM2.5.
Inhaler
(2019) is a series of watercolor paintings of asthma inhalers owned by his close friends and family.
Collages and mixed-media works in the exhibition include
Add Boat
(2019) and
Save Us Wall #2 & #3
(2019) about rising water levels,
Abrígate Míjo, Que Está Frío Afuera
(2020) recalling his mother's warnings about the cold morning air, and
Cooperation Bowl
(2020), an unfired clay bowl with 3 handles.
On view are also a series of short videos and digital drawings like
A Wake
(2019),
Then Meditate
(2019), and
But I Been Told
(2019), where Danny teaches birds about resiliency by feeding them and playing the song
"Wolves" by dead prez
.
READ:
Interview with Danny Peralta
.
Aerosol #1 (Civil War),
2020. 26x26". Paint and adhesive on wood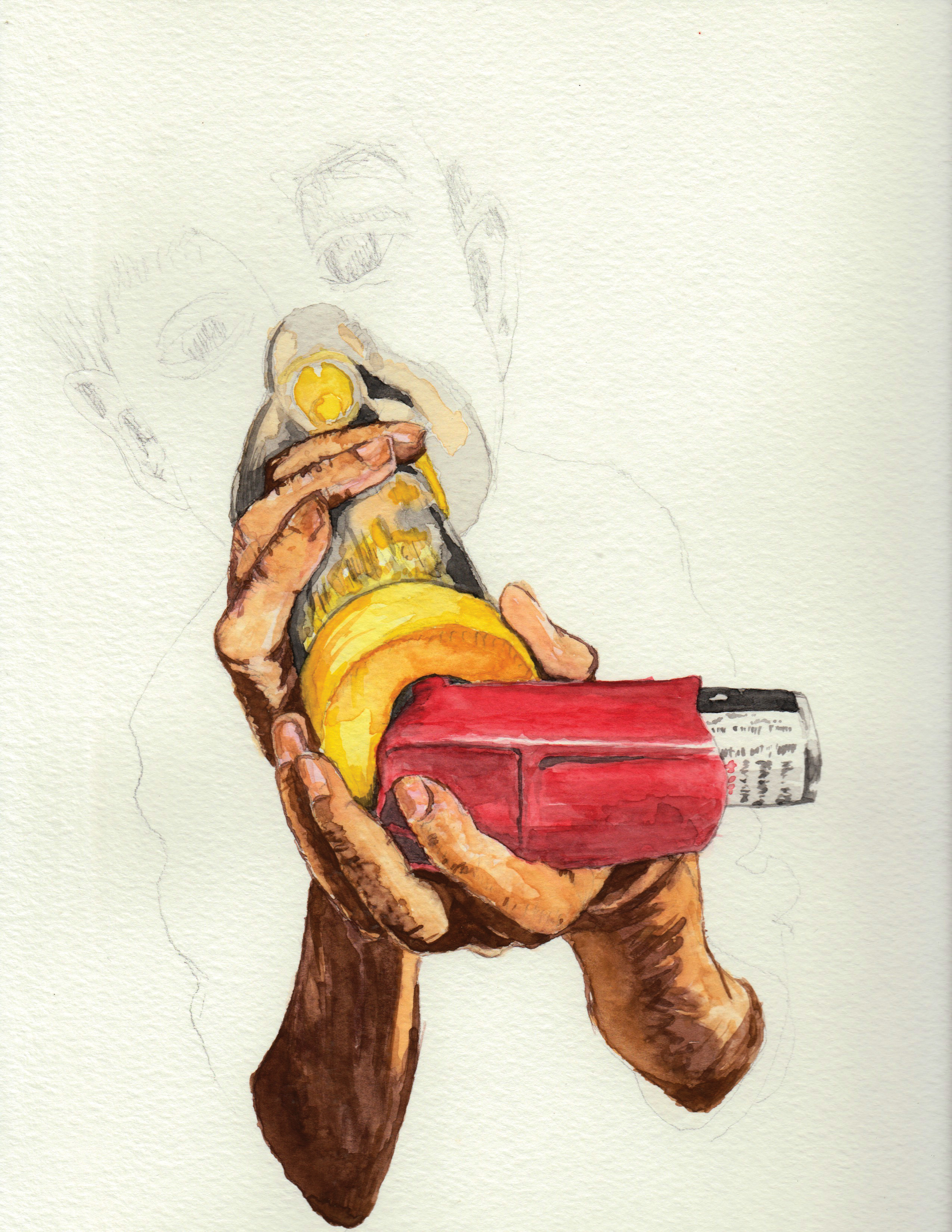 Inhale #6: Lucas
, 2019. 9x11".Watercolor and pencil on paper.
Add Boat,
2018. Digital drawing.