Pet Paradise installation, 2020.

60 × 40 × H 10 inches.
Foam board, candy, paper, silicon, brick, wood, plastic, cloth, artificial grass sheet, led lights, feathers, fur, stuffed toy bear, transparent film, push pin, acrylic tubes, acrylic sheets, miniature furnitures.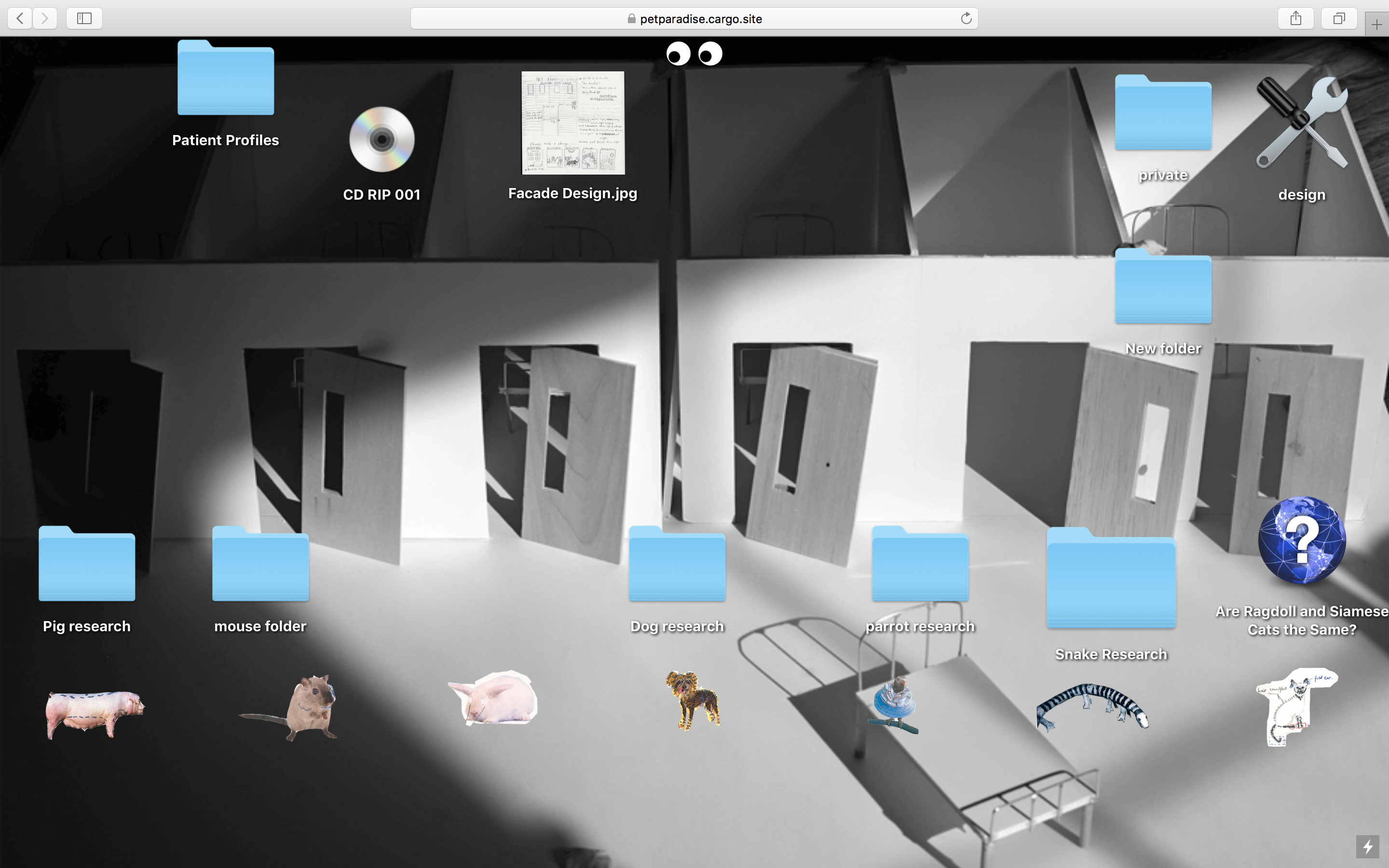 The Doctor's Computer, 2020.
A video showing
the database I created for Pet Paradise
. I present this database on a computer together with the miniature installation. Viewers have free access to explore on their own.
"Night and Cake" from the Pet Paradise series, 2020.
1 min, 43 seconds. Stop motion animation.

"Pig Surgery" from Pet Paradise series, 2018.
8 mins, 16 seconds. Video.

Untitled (wax pigs in a heating tube), 2020.
20 × 8 × H 60 inches.
Quartz glass tube, wax, marble particles, aluminum wires, acryli paint, lab stand, clamp, support ring, resin, push pins, heating lamp.



Calling the Flowers trailer, 2020. 57 minutes. Documentary film.



---
Hana Yejiao Zhang was born and raised in China. Her photography work has been exhibited in China, England, France, German, and Spain. She is the winner of Festival MAP Toulouse (2018), The Three Shadows Photography Award (2018) and the PDN Exposure award (2017). Zhang started working with mixed media since moving to New York City in 2018.

Zhang's practice includes sculpture, installation, video, fiction, and documentary films. She takes different observational perspectives to layout narratives without making judgments. In her miniature animal hospital (Pet Paradise), she builds up different characters with their own voices. In Zhang's documentary film Calling the Flowers (57min, 2020), she portraits the protagonist from different storylines - her aunt as a daughter, as a mother, as her aunt, and as a woman.

READ: Interview with Hannah Zang.